For the second year, Elliott and I decided not to travel for Thanksgiving and instead hosted a bunch of friends (and family!) in our apartment. We had nine people in total and I think it was a really wonderful time. I tried out a bunch of new recipes this year that were especially delicious. Here's a quick overview of what I cooked and my timeline for making it.
Appetizers
Not too much here, but I did make Smitten Kitchen's Union Square Cafe's Bar Nuts, which were delicious. The only thing I would change is reduce the initial toasting time to about 7 minutes - at 10 min a few of my pecans had already started to burn a bit.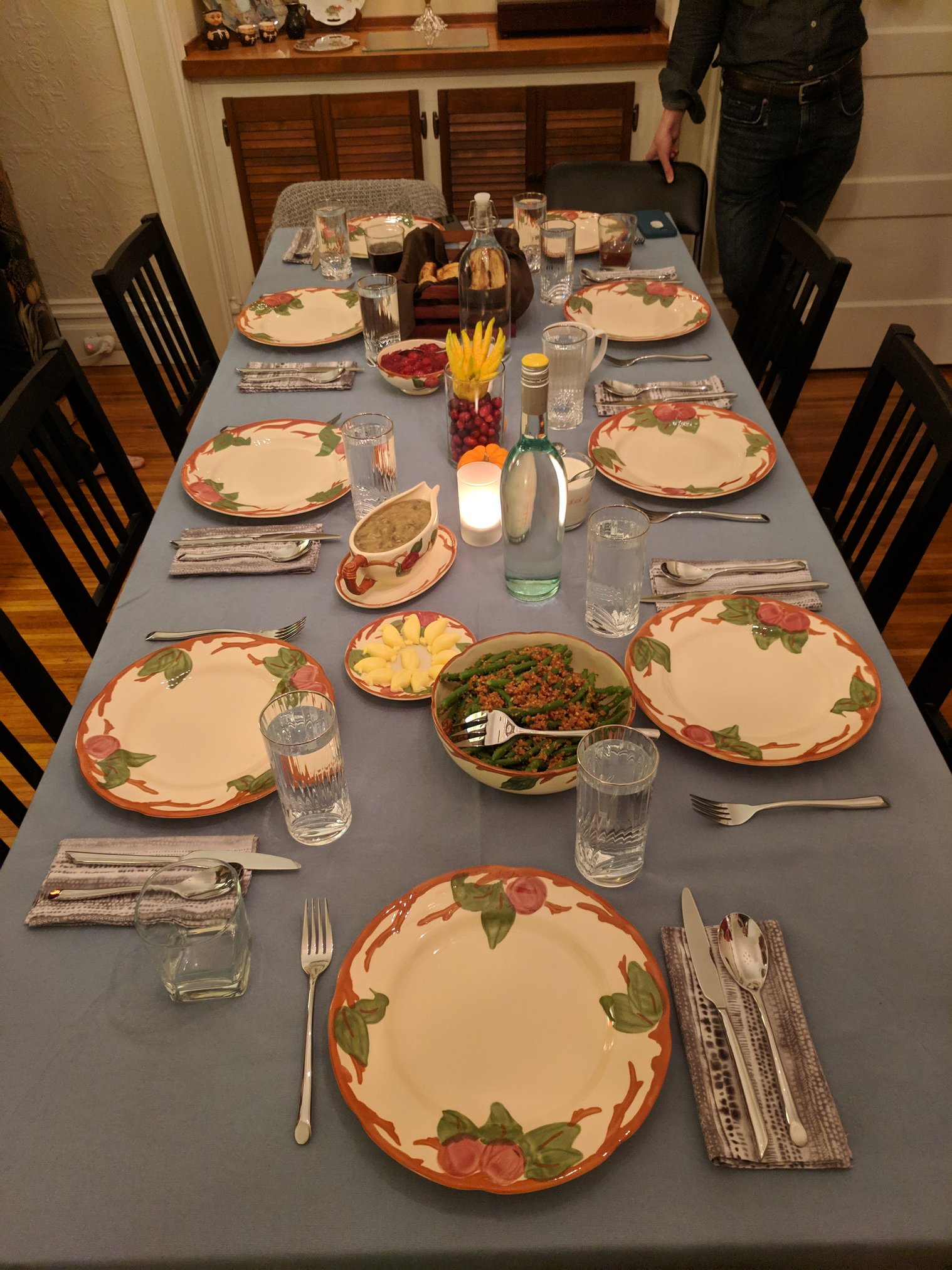 Main Course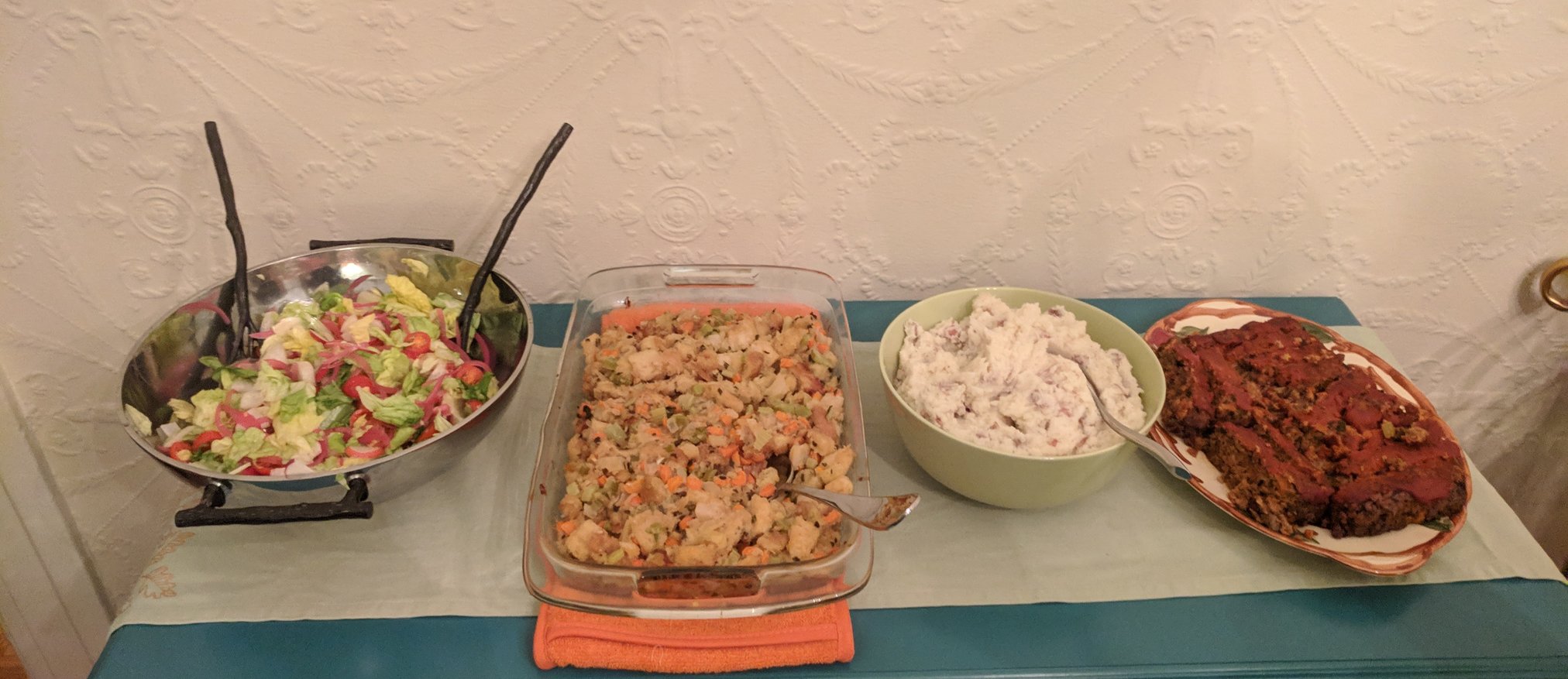 Butter lettuce salad with cherry tomatoes, radishes, picked onions, and buttermilk blue cheese dressing. I used the Kitchn's recipe for pickled onions and included some pickling spices. They were delicious and also really good on avocado toast. I used Serious Eat's buttermilk blue cheese dressing, which I would also really recommend - it was very easy and not overly blue-cheesy.
Green beans with almond pesto from Smitten Kitchen. I followed this recipe pretty much verbatim and thought it was pretty good. I liked that the green beans could be served at room temperature, so there was no careful timing or soggy vegetables.
Veggie meatloaf from yours truly. I did try a a new technique where I turned out the meatloaf from the bread pans after 40 min and then baked them on a pan with the glaze for 15 minutes. I think this made serving a lot easier.
Mashed potatoes - no special recipe here. I just cut up 5 lbs of red potatoes, boiled them and then mashed them up with about a cup of buttermilk, a stick of butter, and a bunch of salt and pepper. I think 5 lbs of potatoes was excessive for 9 people, we have almost half of them left.
Vegetarian stuffing from Running in a Skirt. I made it a bit more savory by nixing the dried cranberries, reducing the amount of apple and increasing the amount of celery and carrot. I ended up using equal quantities of apple, celery, and carrot. I really enjoyed this stuffing - it was lighter than the casserole-types, but still very moist and tasty.
Scallion Pecorino Biscuits from Smitten Kitchen. I love this recipe, but generally change it a bit by removing the parsley and increasing the scallions from 2 to 6. I also made these ahead on Sunday and froze the cut-out biscuits. I then baked them on Thanksgiving frozen by starting them at 475 degrees for 5 minutes, then reducing the temperature to 425 degrees and baking for an additional 10 minutes.
Pear ginger cranberry sauce from Serious Eats. I would highly recommend this sauce. I'm generally not a huge cranberry sauce fan, but I thought this was a good balance of not too sour, but also not overly sweet.
Mushroom gravy from the New York Times Cooking. I thought the flavor was amazing, but it came out really thick. I might use more water/broth to thin it out more next time. This I also made ahead on Sunday, and it was easy to reheat.
Dessert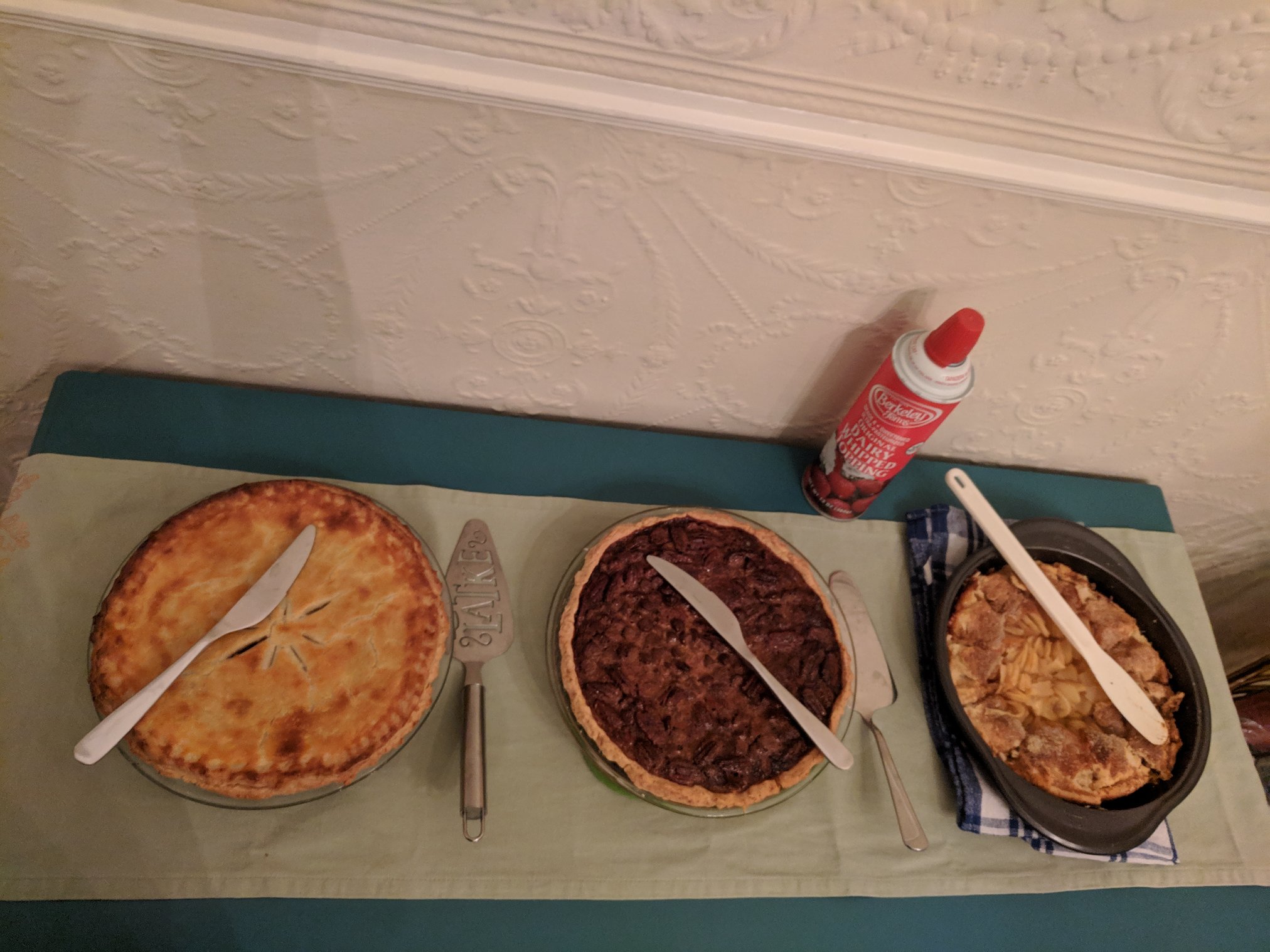 Simple Apple Tart from Smitten Kitchen. This tasted good, but did not work out quite as hoped. I didn't use enough apples and I wasn't able to roll the crust out enough. I think the butter got melted too much while I was combining it for the crust and then it didn't take very much water so when I cooled it and went to roll it out again it was very stiff. I need to try this again. I also forgot to add the sauce at the end, so I'd say it was a medium success.
Mincemeat Pie from the recipe on the Nonesuch Mincemeat jar. I love mincemeat pie, so I really enjoyed this. I will say it wasn't the top crowd pleaser though. I used a Cozy Kitchen's crust recipe, which worked well.
Chocolate Pecan Pie from Love from the Oven. We had someone with a corn allergy, so I wanted to use agave syrup instead. People seemed to really like this, but I thought it was way too sweet. I don't think I'd make this one again.
Mint chocolate fudge. In a terrible moment of mis-judgement I decided mid-day to make fudge as a tasty after-dinner treat (like an after eight mint, I thought!). I didn't have sweetened condensed milk, so I used Joy of Cooking's basic fudge recipe. It was way more involved than I expected and I don't think I actually managed to get it hot enough (I think my candy thermometer was closer to the bottom of the pan, so I suspect it didn't actually reach 234 degrees). It tasted really good, but had the consistency of hot fudge. I ended up freezing it, quickly removing it from the pan and cutting it into pieces with scissors, rolling those in powdered sugar + cocoa and then storing them in the freezer. I think I need to give fudge another try on a day I don't have fifteen other projects in mid flight.
Beverages
I made two drink mixes, both from Serious Eats - Lemon Rosemary Syrup and Cranberry Pepper Shrub. I actually used sparkling water in place of sparkling wine in both recipes and I found the cocktails were really light and refreshing (or entirely non alcoholic). Our friends brought over delicious beverages, so these we'll be mostly saving for later in the week.
Timeline
Sunday:
Pickled onions
Buttermilk dressing
Gravy
Cranberry sauce
Drink mixes
Biscuits (and freeze them)
Wednesday night:
Pecan pie
Apple tart
Mincemeat pie
Thanksgiving day:
Stuffing
Meatloaf
Mashed potatoes
Green beans
Mix together salad
Nuts (I would do these ahead next time)
Fudge (I would do this ahead next time)
Bake biscuits