The Two Layer Party Cake!
This is a post about possibilities - the possibility that is the two layer party cake. As evidenced below - this is my go-to party cake. It's also possible to split the recipe and go single layer with a simple glaze for a brunch or smaller occasion. The basic recipe is adopted from My Name is Yeh. What I like about this recipe is that it's simple, tasty, and stays good for almost a week. It's also supremely flexible and I'll list some of my variations below. Consider it next time you need a celebration cake!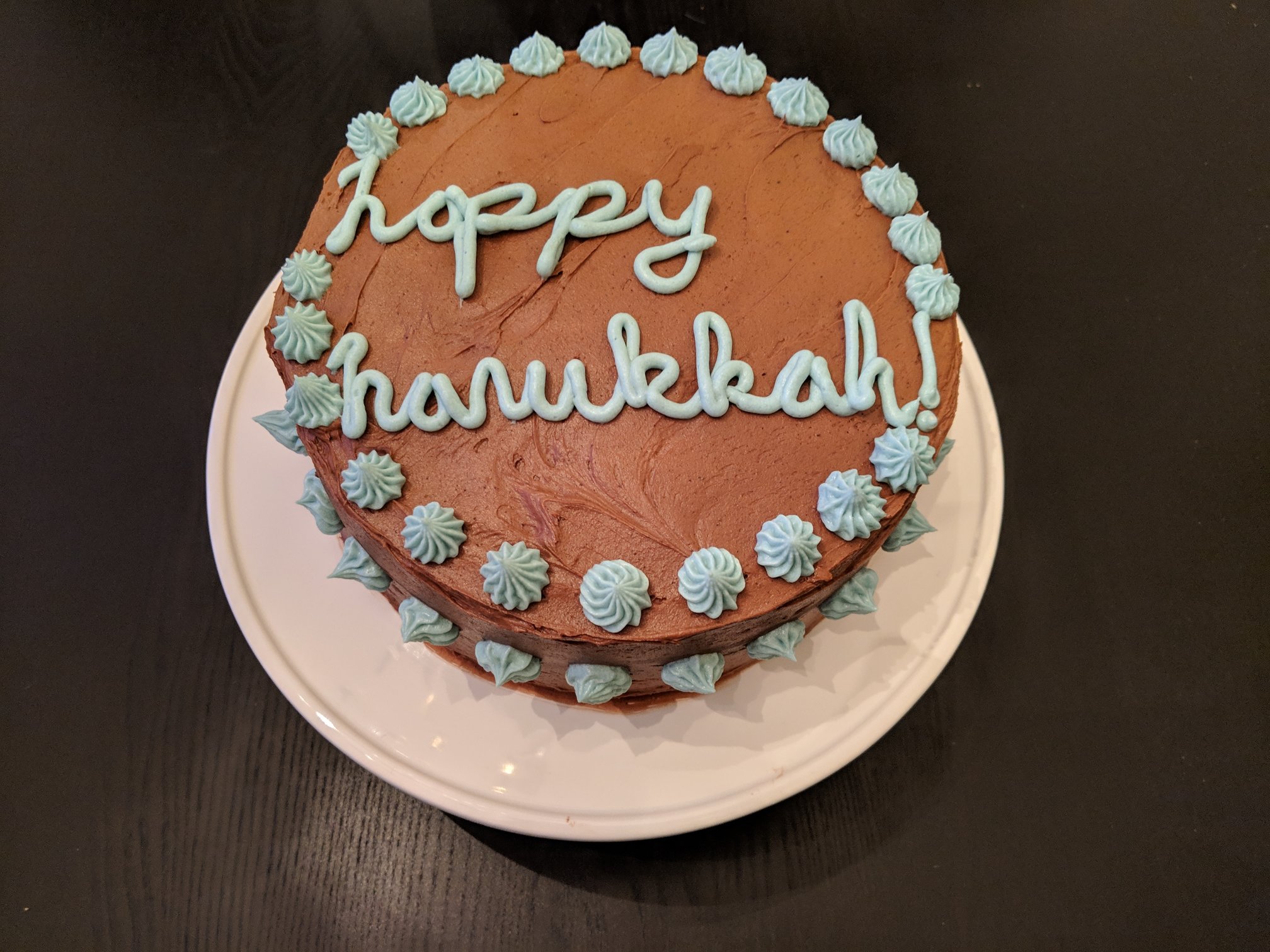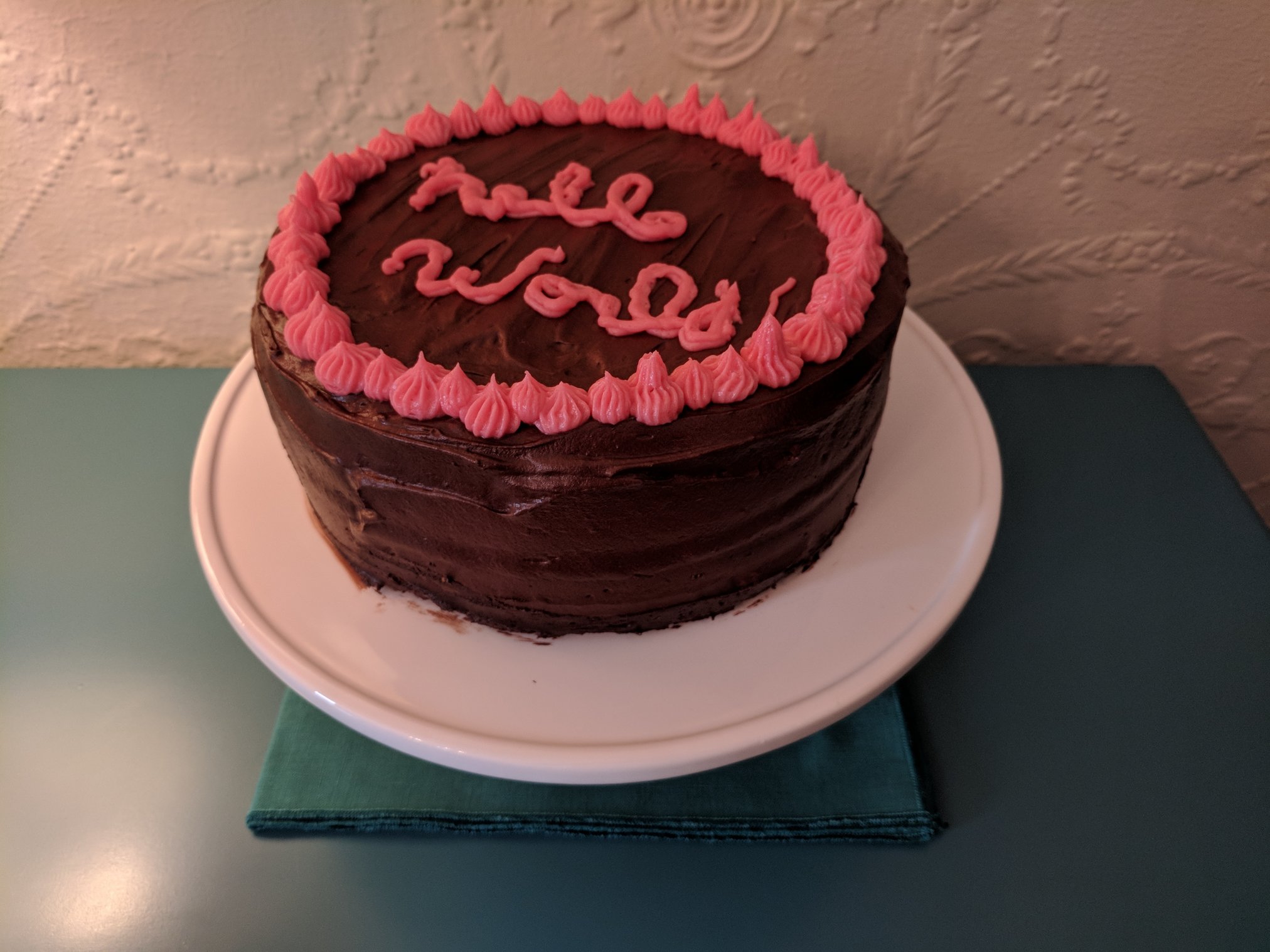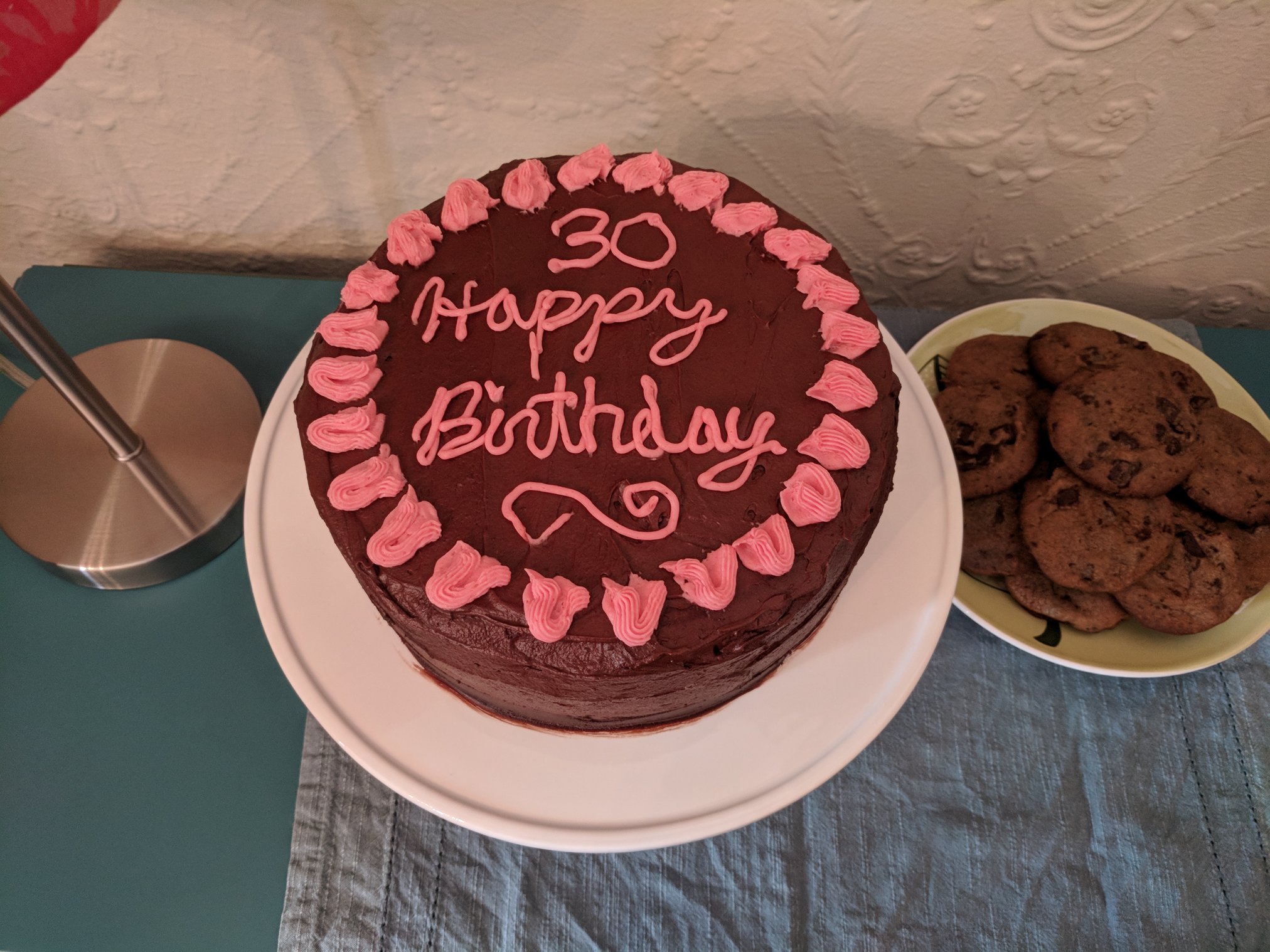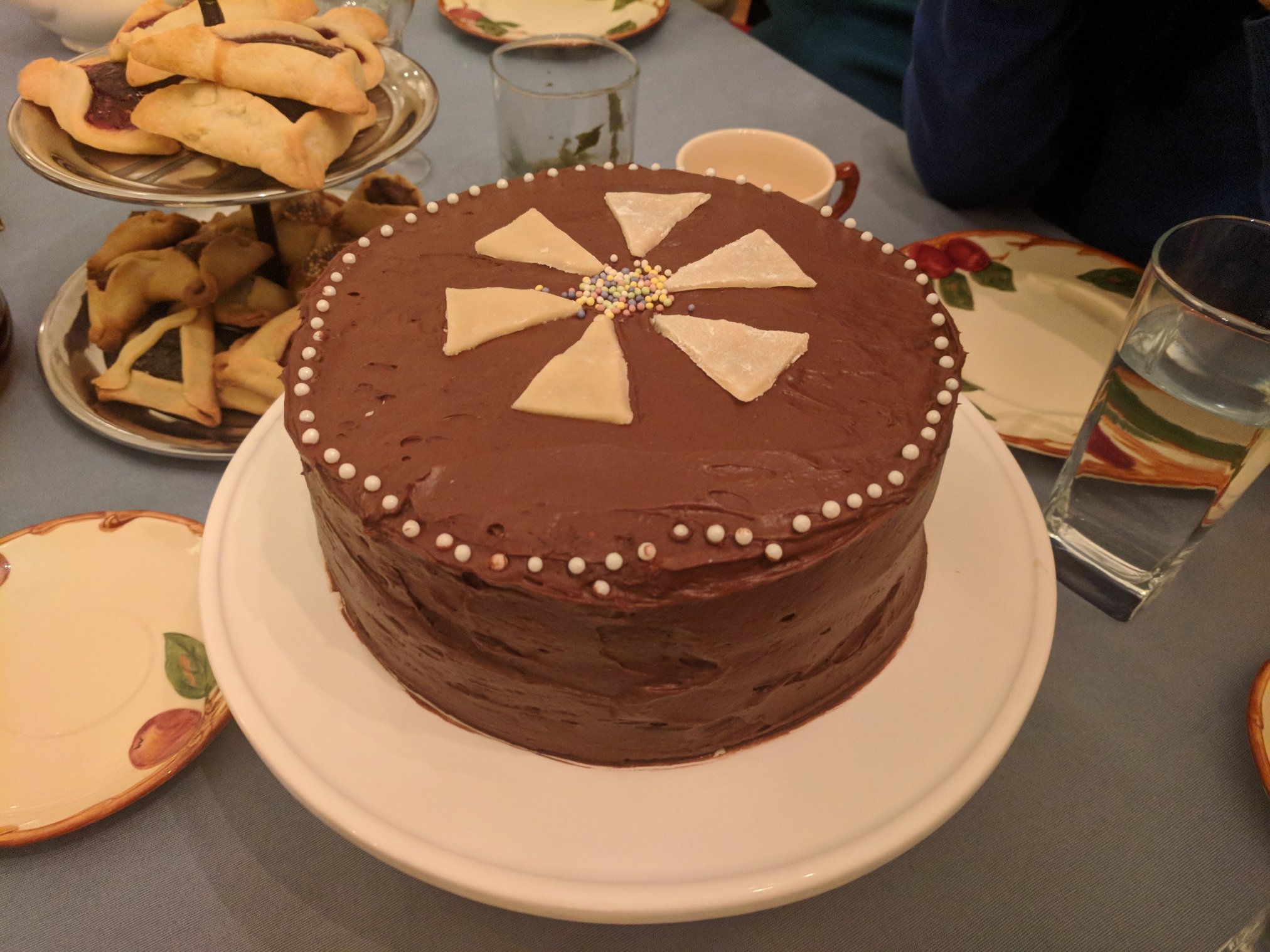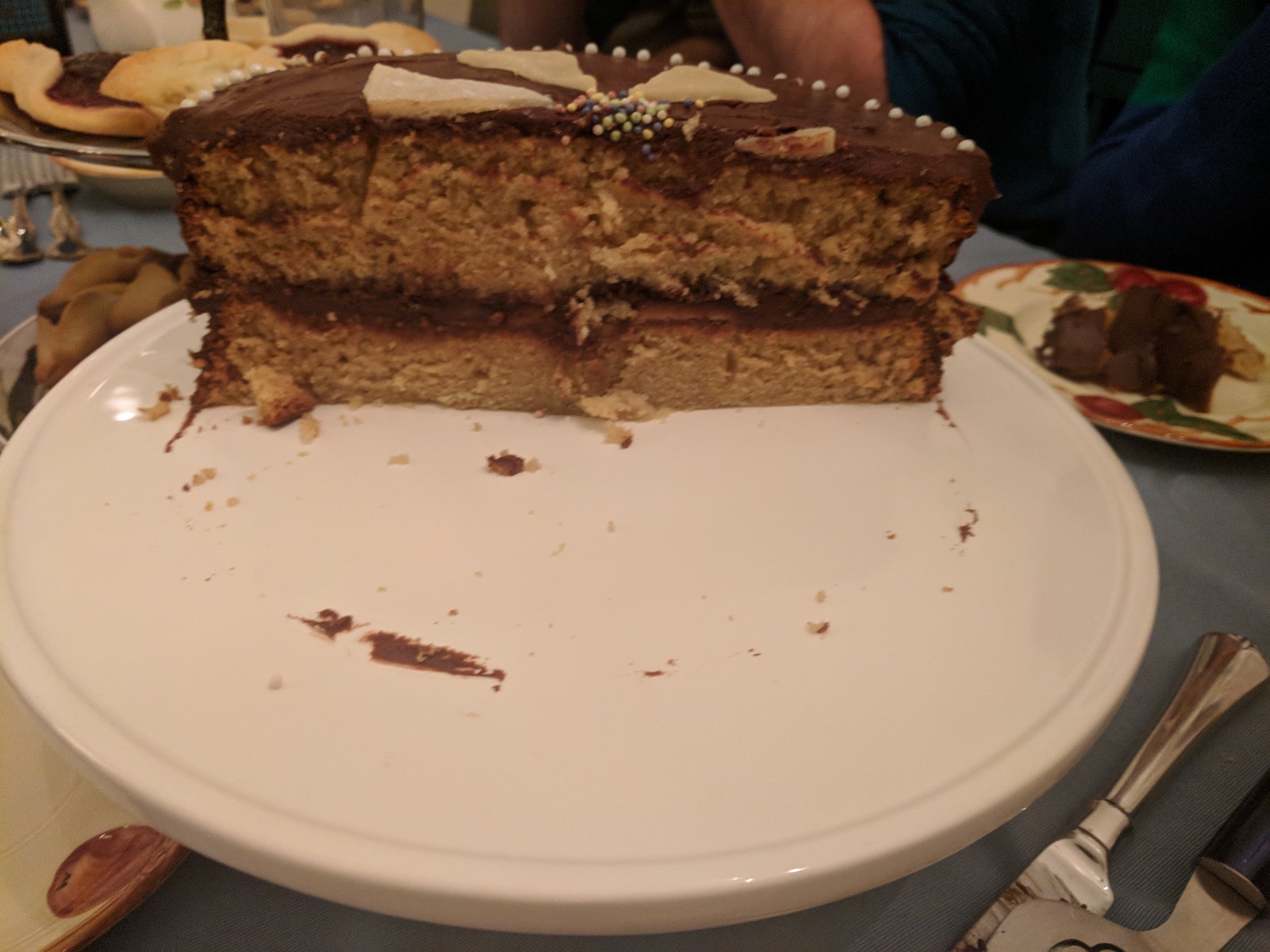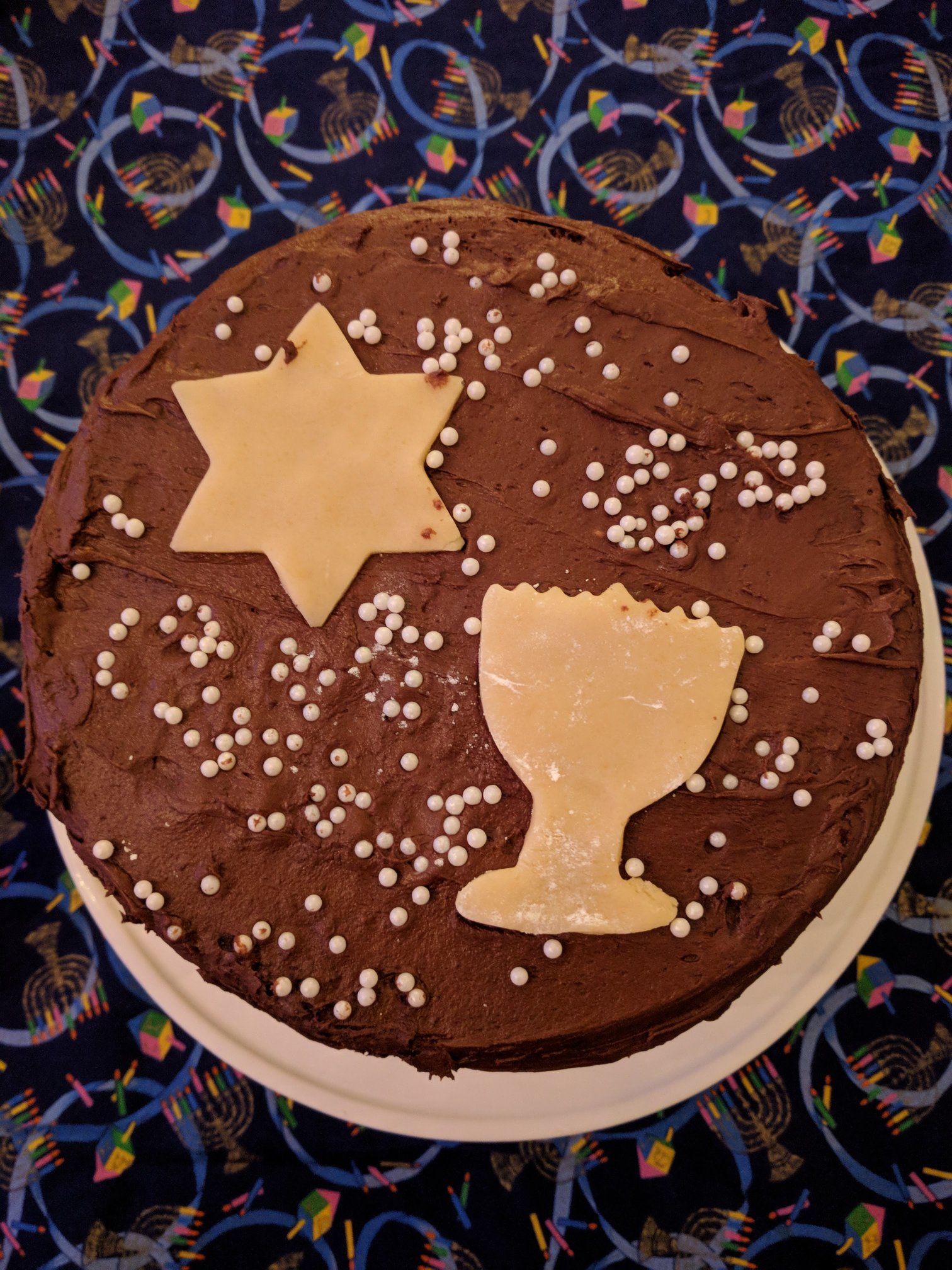 Recipe
Notes
For a chocolate version, reduce the flour to 1 3/4 cup and add 1 cup of cocoa. I personally think that the vanilla base is better though and provides more flavor flexibility. Also, since this recipe uses a chocolate buttercream (which is less sweet than a vanilla buttercream, I think the vanilla cake adds some contrast).
I rarely have buttermilk around, so I often use milk with 1 tbs vinegar mixed in. Recently, I discovered that you can replace the vinegar with lemon juice if you want to make a lemony or orange flavored cake.
Ingredients - Cake
1 3/4 cup sugar
2 1/2 cup flour (alternatively you can use 1 3/4 cup flour and 1 cup cocoa for a chocolate cake)
1 1/2 tsp baking soda
1 1/2 tsp baking powder
2 eggs
1 cup buttermilk (or 1 cup - 1 tbs of milk with 1 tbs of vinegar mixed in)
1/2 cup oil
1 1/2 tsp vanilla extract
3/4 cup boiling water
Optional additional flavoring (mix and match - these are just some ideas to get you started):
For spice cake: 1/2 tsp cinnamon, 1/2 tsp nutmeg, 1/2 tsp ginger, 1/2 tsp cardamom, 1/2 tsp clove
For orange cake: 1/2 tsp orange extract, 1 tbs orange zest
For lemon cake: 1 tbs lemon juice in place of vinegar in "buttermilk", zest of 1 lemon
For almond cake: 1 tsp almond extract
For cardamom cake: 2 tsp cardamom, 1 tsp rose water
Ingredients - Chocolate buttercream
1 stick unsalted butter at room temperature
1/2 cup cocoa powder
1 1/2 cups powdered sugar
1 1/2 tbs milk
1 tsp vanilla extract
Ingredients - Decorating (optional)
Jam
Marzipan
Colored buttercream
Sprinkles
Process
1) Preheat oven to 350 degrees and butter/flour 2x 8 inch round baking pans
2) Mix sugar, flour, baking power and soda, and any spice/zest you are using in a large bowl.
3) In a medium bowl, whisk together eggs, buttermilk, oil, and extracts.
4) Add wet mixture to dry mixture and mix gently until just combined. Add 3/4 cup boiling water and combine until smooth (be careful stirring mixture when you add boiling water).
5) Evenly divide between 2 pans and bake until a toothpick comes out clean - about 30 min.
6) Remove from oven and cool for 10 min, then run a spatula around the outside of the pan and invert onto cooling rack. Cool completely.
7) While cooling, make the frosting. Cut butter into pieces and put into the bowl of a mixer with a whisk attachment (you can also do this with a hand beater or by hand if you're really powerful). Whisk the butter until somewhat fluffy.
8) Gradually add cocoa powder and powdered sugar, add milk and vanilla about halfway through and beat until light and fluffy. Feel free to add more cocoa or sugar to get the consistency/taste you want.
9) Place one cake on a plate and small holes in the top with a toothpick. Using a brush, spread a mixture of 50% jam/50% water onto the cake to keep it moist. Repeat with the second side.
10) To assemble the cooked cakes, you can fill the middle with jam, buttercream, or marzipan (or a combination). Stack the cakes (you may need to trim the rounded tops) and cover with chocolate buttercream. Decorate as desired!