I don't have a great name for this recipe, but let's face it, neither did the Bon Appetit Chicken and Rice Meatballs with Hummus this is inspired by. In spite of the lackluster name, both Elliott and I were big fans of this dish. It's reminiscent of falafel, but without any of the messiness of frying.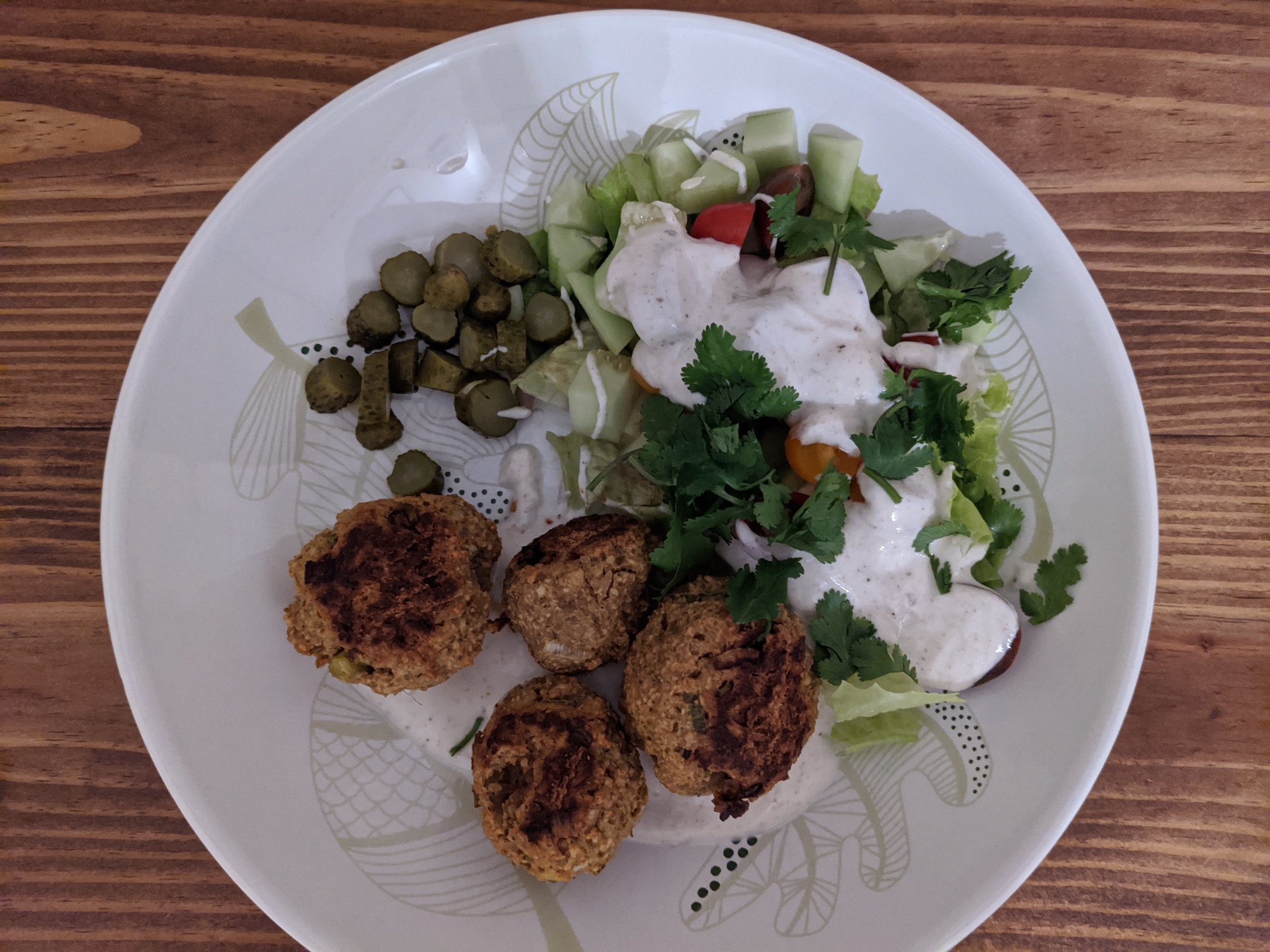 I saw the Bon Appetit version in their New Year's Healthish edition and I was interested in creating a vegetarian version. I've made a more traditional meatball with almonds before, but I wanted to use a nut that was a bit lighter since I imagine chicken being lighter than beef. A couple days ago, I was running and listening to Dan Pachman's The Sporkful episode "You're Eating Gay Cheese". In this episode he interviews a vegan cheese maker who uses cashews as the basis of his notz (mozzarella inspired vegan cheese). As an aside, I would definitely recommend the Sporkful - it's a bit like Planet Money for food. Anyways, when I was trying to figure out what to use in this recipe, notz came to mind and I decided to try cashews. Overall, it worked out really well - the balls are not too dense and nice and crispy on the outside.
One of the advantages of vegetarian cooking is the ability to try food raw to adjust flavorings. In this case, I tried the uncooked ball mixture and decided it was way too bland as suggested in the original recipe. I doubled the curry powder and swapped the salt for an umami punch of soy sauce/miso/fish sauce. I also decided that since I was using curry powder, raita would be better than hummus and would also provide a bit more of a sauce/dressing effect since I suspected the balls would be a bit on the dry side since they're baked.
Anyways, I figured it might be interesting to discuss my recipe development technique here. I don't always have success when I substitute > 50% of items in a recipe, but in this case it was great.
Ingredients
Serves 4
2 cups unsalted, roasted cashews
1.5 cups cooked and cooled white rice
1 egg
1 bunch of scallions, white and light green parts well chopped
4 tsp curry powder
1 tsp soy sauce
1 tsp miso paste
1/2 tsp fish sauce
1.5 cups full fat yogurt
1 tsp cumin
salt and pepper
cucumber
1 cup chopped cherry tomatoes
1 cup chopped lettuce
1/2 cup chopped pickles
naan or pita
hot sauce
cilantro
Process
1) Preheat oven to 425 deg.
2) Put cashews in food process and grind until pieces are about the size of dried couscous. Add rice and pulse ~10 times.
3) Put cashew/rice mixture in a large bowl with egg, scallions, curry powder, soy sauce, miso, and fish sauce. Mix until just combined.
4) On a lined baking sheet (you can use unlined, but I found the balls stuck a bit), roll mixture into ~14 balls. Bake for 15 minutes. (I like to put my naan in the oven for the last 3-4 minutes to toast.)
5) While baking, make side salad with chopped lettuce, cucumber, and tomato and place on plate. Add chopped pickles on the side.
6) Mix yogurt, cumin, and salt/pepper to taste to create raita and divide evenly between plates putting some on the salad and some on the bottom of the plate.
7) When the balls are done, remove from oven and place on top of yogurt sauce. Top with a bit of hot sauce and cilantro, serve with naan.